Alternatives for a Low Interest Rate Environment
Fixed Income is Frothy…
Investors are holding a record amount of Fixed Income in their portfolios. It's no wonder. Four years after the financial crisis, shell-shocked investors have continued to flee to bonds in order to lower their exposure to volatility and risk; and to capture yield. Of course, typically investors pile in to an asset class at the wrong time. For example, the chart below highlights the huge increase in equity fund flow prior to the Tech Bubble bursting in 2000. ($653B compares to just $22B in bond funds). In the period of 2008-2011 $395B left equity funds and $776B went into bond funds.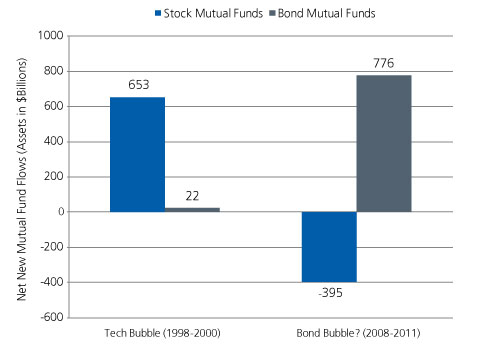 Bond fund inflows, which peaked during 2009, continue to build. Just last week, bond funds had estimated inflows of $8.20 billion, compared to estimated inflows of $7.05 billion during the previous week. Taxable bond funds saw estimated inflows of $6.46 Billion, while municipal bond funds had estimated inflows of $1.73 Billion.
And Yield Isn't What It Used To Be…
Rates on U.S. Treasuries have trended lower over the past 12 years. Investors in fixed income over this time period tended to do very well. Of course, owning Treasuries in a decreasing interest rate environment is always attractive. However, as those bonds mature, and new bonds with lower rates are introduced, the cycle begins to correct itself. Most would say that this correction has been going on for a while, but really began with the financial crisis of 2008.
In the past 3 years, the 10-yr Treasury yield bounced along its all time low of around 2.1%. The crisis forced the Fed to bring down the Fed Funds (overnight bank lending) rate to zero for the first time in history in order to stimulate growth. And just a few weeks ago, the Fed affirmed that it doesn't plan on raising rates anytime soon. Short-term rates are effectively 0%, and Treasury yields are at historical lows.
Fixed income advocates point to the fact that high yield and corporate bonds have significantly outperformed Treasuries since the current credit rally began early last Fall. Since October 4th, 2011, high yield bonds have returned almost 13% and corporate bonds about 4.5%, as 10- and 30-year Treasuries have returned -0.1% and -4.5%, respectively. But this rally came after a treacherous third quarter in 2011, when risk premiums spiked in the face of weaker U.S. economic data, a climax in the European debt crisis, and concerns about slowed growth in China. For investors chasing yield, bonds may have already fizzled.
Dividend Stock Trade Crowded, And Clouded.
Fed up with rock-bottom yields, over the past 2 years investors have been allocating to dividend-paying stocks, and many ended up outperforming the market in 2011. But as with the push to fixed income during the last three years, that trade may be getting crowded.
The buildup of rich valuations in some dividend stocks over the past 12 months suggest that as investors pile into those equities, the tide may soon turn. So far this year (2/12/12), the nearly 8% advance in the S&P 500 has doubled the gains in many of the largest dividend funds (source: Bloomberg).
New public policy may add clouds of doubt for dividend investors. White House proposals to raise the dividend tax rate to the higher personal income tax rate of 39.6% have some talking of an end to the party. If this proposal becomes reality, investors in dividend-paying equities may see values erode. And even if the tax hike doesn't come to fruition, keep in mind what would likely happen when the stock market heads south again. Not only would the value of these stock values drop, but the companies may choose to reduce or eliminate the dividends. That's what we saw in 2008. That's why modern portfolios need to move beyond stocks and bonds.
What Are Your Alternatives?
Alternative investments remain mysterious to some investors. Endless amounts of articles have either celebrated their virtues or warned of their risk. The fact is that there are a wide array of alternative asset classes and alternative investment strategies from which to choose. Here, we attempt to simplify and demystify alternative investments by providing investors with a framework for evaluating why they might be incorporated into their portfolios.
Benefits of Alternative Investments
When managed in the right way, alternative investments are able to offer:
Access to Asset Classes with Independent Return Characteristics,
Low Correlation to Stocks and Bonds,
The Potential to Enhance Returns.
The Ability to Reduce Risk of Overall Portfolio
Growth of the Alternative Universe
The high levels of volatility in equities over the last 12 years have taught investors that they need to find different types of return sources. Alternative strategies and asset classes offer the means of managing risk within a portfolio, while enhancing diversification away from long-only, equity- and fixed-income-based investing. As seen in the graph below that fact is driving a movement within the financial marketplace, for those who don't want to be completely reliant on what's happening in stocks and bonds marketplace.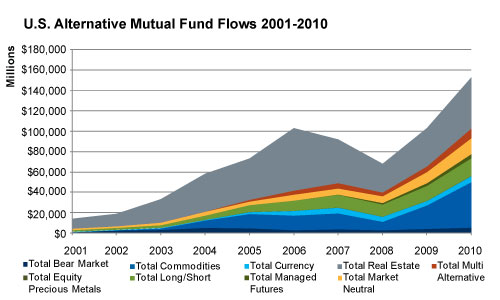 Low Correlation and Independent Returns = Real Diversification
The purpose of alternative strategies is to enhance diversification and mitigate risk. In a dramatic drawdown period such as 2008 for example, the traditional equity market was down 37%. There were funds invested in currency strategies and managed future strategies,  that actually had positive returns for the same period.  The key to their success was their low correlation to the broader market, and their negative correlation or low correlation to other alternative asset classes and strategies.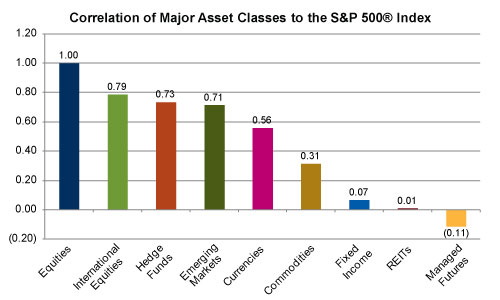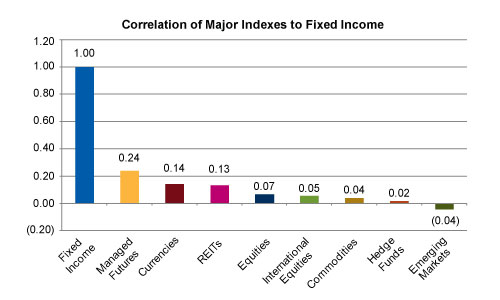 Correlation Analysis (1992-2011)
Risk Reduction when applied to portfolios
Alternative strategies have the ability to help manage risk within a portfolio, because they have different risk characteristics associated with them compared to traditional investments.
Alternatives For Modern Portfolios
So, if fixed income investments are providing little yield and you think that dividend stocks seem overvalued, or carry too much market risk, it might be time to consider allocating more of your portfolio assets to alternative strategies. With experts maintaining both that volatility in traditional markets will continue, and modest returns over the next several years will occur, now is the time to research new ways to build modern portfolios. The more informed you are about the various alternatives available for investment, the better you'll be able to effectively assess, and potentially deploy those strategies.